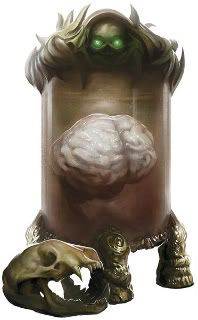 The Exalted Brain in a Jar bid the party come hither and they did. The Exalted Brain revealed that he was the Thane of this now dead Thaig of Gohdanhar. It seems a lich had come through the forges from the elemental chaos and hit the city before the thane's army could mount a coordinated strike. The Exalted Brain was surprised to learn that a city existed above him, but he was more concerned about the lich in his forge. He is safe from the lich in the keep. Instead of risking a battle and the future of the thaig, The Exalted Brain decided to wait for an opportunity to eliminate the lich. After deeming the party his best bet, he offered them 20,000gp to kill the lich.
Next the party climbs down the pit to the forge two thousand feet below. At one time there was a winding path through the pit, but now it was mostly broken up with many sections of the pathway crumbled through time. It required some climbing to get down, not to mention dealing with the shrieks that lazed about.
Once they bottomed out, they headed toward the forge. A ward had been placed before the entrance, which was guarded by a pair of Blazing Skeletons who started raining fire down on the party as they tried to dispel the ward. Having taken a shot from the blazing skeletons, Macarius said funk 'dat and swatted the ward away like it was a fly buzzing around his slice of pie.