I guess what the soothsayer says is true. Be careful what you wish for. Ever since I, Todd Smith, was a young boy our family inn, The Silver Tankard, has never had more than one or two guests at a time. I've been prayin' to Moradin, keeping my establishment clean and tip-top for years fixing rooms that hadn't been used to curry his favor so that one day he'd bless me with a full house. Well today, all my ten rooms are finally full and it's the worst day of my life.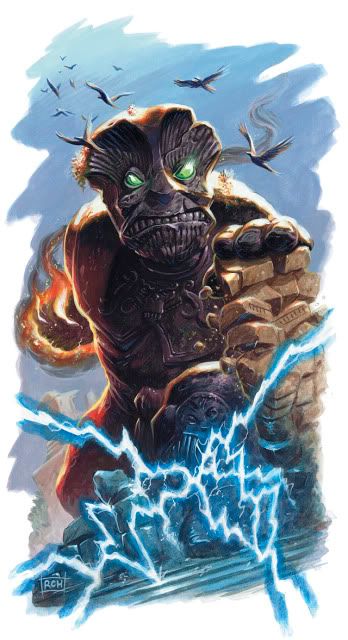 Two separate and strange groups of travelers came in from the storm wall all armed to the gills. Four rode in on drakes, and six came in on the caravan headed toward Blackbury yonder down south. Of the two, the six riding in on the caravan were the stranger bunch. Still, they had a certain aura around them. Anyway, I don't pretend to know their business, though Ethel claims they be traipsing around the ruins on the hill. Don't imagine why though. I mean if they traveled all this way, I would imagine they'd have something better to do than skulk about some moss covered bricks.
After staying at The Silver Tankard for a day or two, the dwarf and the weirder of the gnomes say they need to speak to me about an urgent matter and we go around back. What they said was crazy talk. They said the Millennium Storm was going to crash in and sweep up the village in seven days. Ordinarily, only Wendel talks that kind of end-of-the-world nonsense after his fifth of the night. I didn't ask why and didn't feel the need to, but for reasons I don't know, I believed them. We were doomed. Yup, felt it in my bones. They told me to warn the other families about it, which I did on the next day, but none of us really knows what to do. I mean, where are we going to go and how do they plan on surviving the forty of us after the wall comes crashing in. That caravan isn't looping back from Blackbury for another fortnight yet.
So after walking out to all the farms and warning the families about impending doom, Pyotr comes rushing in, huffing and puffing. His farm is on the northernmost edge of the village and closest to the storm wall. The storm wall had moved, tearing through a section of his crop. The collapse of our village had begun and my inn was no longer full.
Metagame
The ghouls at the guard house and the four mercenaries were two combat encounters. Talking down Elan Tennabre and his Golem also nets full XP. This brings you up to 4,926 XP.
You have discovered and retrieved the Alexandria Core from within the golem, which is the item Gazal had asked about after you rescued her in Air Dock.
Now that Elan Tennabre has given you the Alexandria Core, the Tumbledarmm haven will fully collapse in 7 days. The storm wall has already begun to encroach on the village. The caravan will not return for at least 14 days. Air Dock is at best a 4 day journey on foot. A caravan can make the journey in 2 days. Walking through the Millennium Storm without the shelter that a caravan provides is grueling enough for avatars such as yourself, let alone ordinary people.
I made a deck of cards that has some effects that can be used in the game. The deck comes out when someone does something everyone thinks is awesome. The effects range from minor to pretty significant. We'll see how it goes. These things are either fun or wind up being hokey.
Question of the Week
When growing up, did your character ever feel like they were being watched? If so, how did this come about? Was it an isolated incident or is this something that is recurring?